Foundation Staff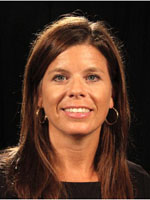 Jana Siminski
Director of Philanthropy
Phone: 616.493.8954, Email: jsiminski@fhps.net
I am very excited to work for the Forest Hills Public Schools Foundation. I am passionate about Forest Hills Public Schools and the work of the Foundation. The vision of Forest Hills Public Schools is to create a new model of education which equips each student with the 21st century skills they need to be successful. Creating a new model is exciting, fulfilling, and leading-edge work. Oddly enough, it bears a much stronger resemblance to research and development than it does to traditional education. It is, in fact, true innovation.
True innovation means to create something new, something that does not yet exist. However, innovation requires investment on a scale that can't be drawn from general operating funds. It is the role of the Forest Hills Public Schools Foundation to provide the capital needed to fund research and development. We know that innovations discovered today will lead to new levels of excellence tomorrow. Through a cohesive, district-wide fund development strategy, we strive to support the district through Individual Teacher Grants, Destination: Innovation grants, the Gala's Support Our School Initiative, other restricted campaigns and ultimately by growing our endowment to provide significant, sustainable support to the district.
My husband and I moved into the district in 2003 because of the excellent reputation of the schools. Our two children now attend schools within the district. As a parent, I know the importance of quality education and value the district's tradition of excellence and desire for innovation. I look forward to continuing the Foundation's work to make Forest Hills Public Schools a "Destination District" by igniting passion for learning in students.
---

Foundation Coordinator

The Foundation's Mission
---
About the Foundation
---
---
Upcoming Events
---
Recent News
---
Ways to Give
---
Contact Information